A Bangladeshi man, known as the 'tree man,' with a rare skin condition that made his extremities look like tree barks successfully underwent 16 surgeries to remove warts that covered his hands and legs. A total of 11 pounds of warts were removed, originated from a condition known as epidermodysplasia verruciformis or Lewandowsky-Lutz dysplasia.
Doctors state that if the warts do not grow back, Abul Bajandar, also known as the "tree man" would be the first person to recover from a severe case of the disease fully.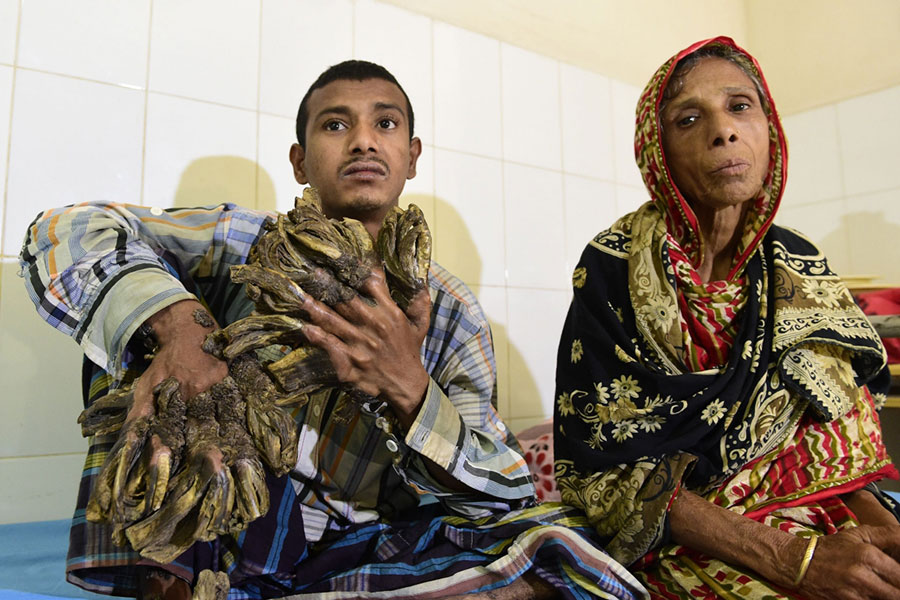 Another tree man roots for a cure
Bajandar started to have his warts removed one year ago, at the Dhaka Medical College Hospital. The 27-year-old was treated by a team of plastic surgeons, led by Dr. Samantha Lal Sen, who revealed that the man can now eat, write, and play with his daughter using his hands. Dr. Lal Sen also stated that the following surgeries would help Abul's hands be more aesthetically pleasing, seeing that they now appear damaged from massive warts removed from his skin.
Although Bajandar has been made notorious for his disease, another "tree man" made its way to the media spotlight. It was the case of 42-year-old Dede Koswara, who died last year in Badung, Indonesia. Contrary to Bajandar's case, Dede had multiple attempts to remove and treat his warts, but they were to no effect, costing him his family, his job, and ultimately, his life. Dede died from many health problems, including hepatitis and colon disease. Doctors believe that he was absent-minded and "resigned to his illness," seeing that his condition made of him a living attraction and had the townsfolk call him a "cursed" man.
His acquaintances reveal that, although his family left Dede before his death, he never let go of the expectation of finding a cure. Dede's warts, also known as cutaneous horns due to the scaly and wood-like composition they present, were removed in 2008 and added up to 13 pounds. But the lesions grew back forcing him to undergo two surgeries per year to treat the infection.
Also known as the tree man illness, the Lewandowsky-Lutz dysplasia is a more severe version of the symptoms caused by the human papillomavirus. It is characterized by large cutaneous carcinomas, scaly macules on the face, hands, feet, and around the penis. The lesions are usually spread through the body, but some cases have seen the disease restricted to a single extremity.
To this day, no certified treatment has been discovered although some chemicals and drugs could be of use. One example would be cimetidine, which helps depress outbursts of lymphocytes, but the use of the drug was later rebuked and then again suggested being potentially beneficial, seeing that it was successful by being applied using calcipotriol, or Dovonex, which is commonly prescribed to treat psoriasis.
Besides these tree men, another notable case would be the Romanian Ion Toader, who appears to be cured after a series of surgeries performed in 2013, but his case was far less severe than Dede's and Abul's.
Source: RT