A tattoo was responsible for an Australian woman's incorrect cancer diagnosis. According to a new study, doctors suspected the woman had a type of cancer called lymphoma but were baffled when they looked at her enlarged lymph node in a microscope and found black tattoo pigment.
The tattoo, which she had gotten 15 years ago, was reacting against her immune system, misleading doctors into believing she had cancer.
The case was reported in a study published Monday (Oct 2) in the journal Annals of Internal Medicine.
Enlarged lymph nodes were caused by adverse reaction to tattoo ink
The Australian woman, who was 30 years old at the time, went to see a doctor about some small bumps under her arms, which had appeared two weeks before. Doctors conducted some tests and a body scan revealed even more enlarged lymph nodes in her chest. Some of the nodes were located near the roots of her lungs.
"Ninety-nine times out of 100, [this] will be lymphoma," said Dr. Christian Bryant, a hematologist at the Royal Prince Alfred Hospital in Sydney who treated the woman, according to CNN.
Doctors found that the woman's lymph nodes were actually inflamed because of an adverse reaction to the 15-year-old tattoo ink, not because she had cancer. Many cancers, such as lymphomas –which come from immune cells—cause lymph nodes to swell. Infection and inflammation can also cause lymph nodes to enlarge.
The physicians removed a lymph node from the woman's armpit and found a cluster of immune cells with black pigment from the ink. The woman, whose name was not disclosed, had an old tattoo covering her back, along with a smaller, 2-year-old tattoo on her shoulder.
Doctors say this is the first time enlarged lymph nodes were mistaken for cancer
Dr. Bill Stebbins, director of cosmetic dermatology at Vanderbilt University Medical Center, who was not involved in the report, tells CNN that the skin has its own immune cells, which are always "surveilling" the skin.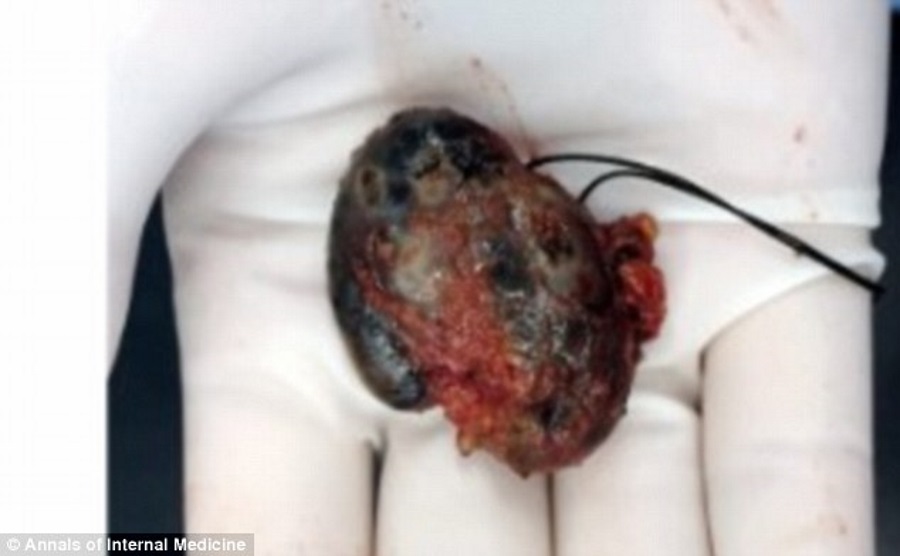 Stebbins noted that once the immune cells came across the tattoo pigment and saw it was a foreign substance, they ingested it and traveled from the skin to the lymph nodes over the course of the 15 years.
"The pigment is too large for these cells to eat and digest," Stebbins told CNN. "That's why they're still there many years later."
The Australian doctors couldn't explain why the woman had a reaction 15 years after getting the tattoo, though. Bryant noted that something must have set off the immune cells, but they're not sure what. The woman told them her tattoos would occasionally itch, but for short periods of time. Plus, the type of inflammation found in her lymph nodes, known as granuloma, was not present in her skin.
The doctors noted this is the first time enlarged lymph nodes have been mistaken for a lymphoma, adding yet more oddness to the case.
"I think there's absolutely no way to know how common it is," said Bryant. "Most people who have tattoos have absolutely no problems."
Source: CNN