A team of scientists from Imperial College London discovered a new form of light. The researchers used photons but, instead of letting them interact with a group of electrons, they isolated one of them and combined its properties with the photons. This could result in circuits that will work with photons instead of electrons. The study was published in the journal Nature on August 5.
The study describes a new form of light that would make possible for photonic circuits to be used to power quantum computers or in solid-state quantum memory systems, a vital component of a quantum computer. The combination of one electron and photons could increase the durability of photonic circuits because it will make them less vulnerable to physical imperfections.
When experimenting with quantum phenomena, it can be observed whether in particles smaller than an atom or in supercooled objects. But the new light could make the observation of quantum phenomena possible on a visible scale and at room temperature.
But the combination of photons with a single electron is not all that scientists from Imperial College London discovered. They also made experiments with this new type of light and its interaction with a recently discovered type of material known as topological insulators.
Topological insulators are materials that are protected in their interior from sound and heat, but at the same time can support the flow of electrons on their surface.
Light interacts with all the electrons present on the surface in a conventional material, and it also makes contact with the electrons inside that material. But when it interacts with topological insulators, the light only interacts with one electron on the surface which could create a coupling that has light and electrons properties.
Phys.org explains that normally, the light will travel in a single line, but when photons are bound to a single electron, it would follow the electron's path and thus, trace the surface of the material.
Vincenzo Giannini is one the study researchers and lectures at Imperial College London's physics department. He said that topological insulators are providing scientists a new way of studying important concepts in physics today, despite the fact that they were invented in 2007.
Modeling an interaction around a nanoparticle using a topological insulator: Catching light in a sphere
In the study, Dr. Vincenzo and fellow researchers modeled the interaction of the photons and the electron around a nanoparticle made of a topological insulator. A nanoparticle is a sphere below 0.00000001 meters in diameter, and that is what you see in the image bellow: light trap inside the nanoparticle made of topological insulator.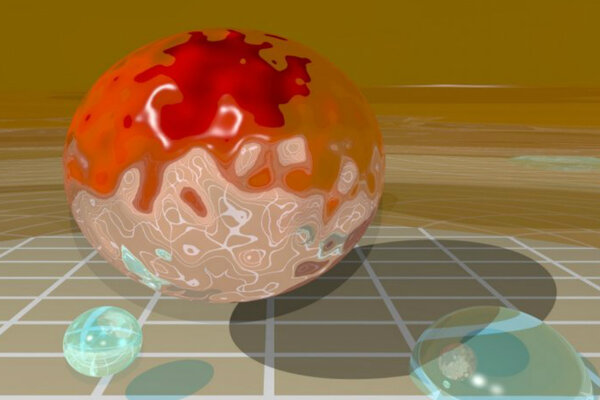 After modeling photons and the electron into the small sphere, researchers found that light took some properties of the electron, and the electron also took some characteristics of the light.
According to Dr. Giannini, the result of this study will have a significant impact on the way light is conceived.
But observing the phenomenon in a small dimension is not enough, and the team is now working on how to make the modeling in experiments using current technology. This means that scientist will work to make it possible to observe quantum phenomena on a regular scale and at room temperature.
Source: Phys.org