Thursday morning was greeted by the appearance of naked Donald Trump statues in the cities of New York, Los Angeles, Cleveland, Seattle, and San Francisco.
The naked Donald Trump statues were created by INDECLINE, a conglomerate of anarchist artists known for elaborating anti-Trump stencils and graffitis. They have altered billboards all over Los Angeles and labeled Walk of Fame stars with the names of black victims of police shootings.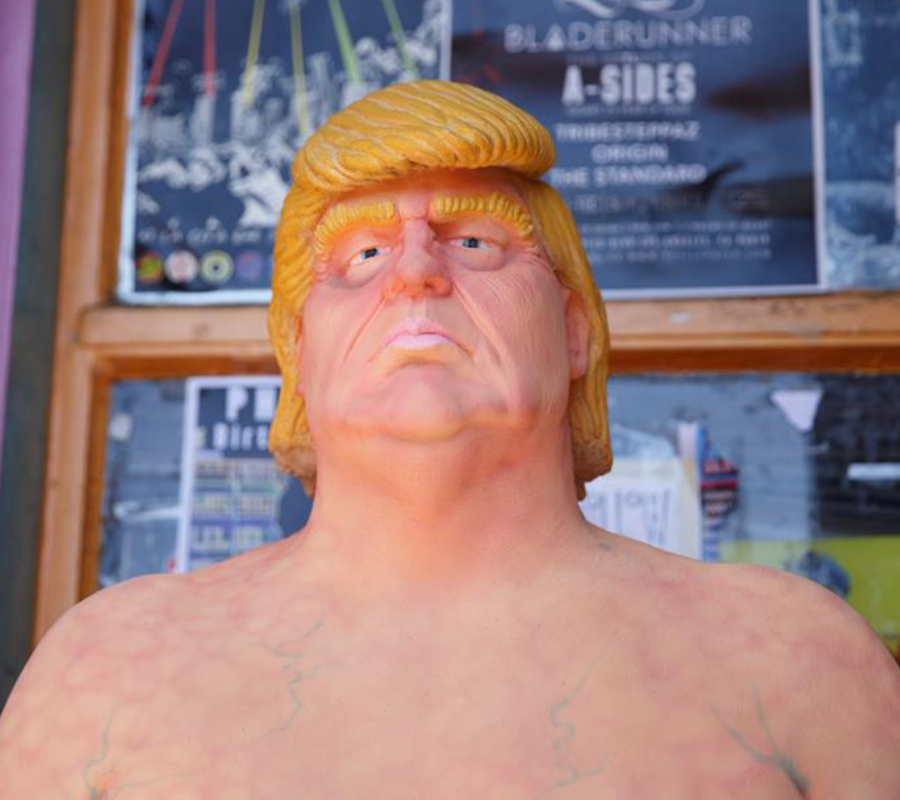 The project was named "The Emperor Has No Balls" as a shout out to Hans Christian Andersen's "The Emperor's New Clothes" authored in 1837, which tells the tale of an emperor led to believe that he's wearing the most expensive and fancy suit while in fact, he's naked, so he parades around his empire until a little boy reveals to him the awful truth.
Statues of Donald Trump naked, what else?
An INDECLINE spokesman revealed to the Washington Post the details behind the statues. They are an attempt to highlight Trump's authoritarian mannerisms while acknowledging his feat of becoming the most discussed person in the U.S. media since he began his controversial and unorthodox campaign.
The spokesman referred to past leaders whose memory was latent in similar statues, but with Trump, INDECLINE believes that it had to be a different act of remembrance fit for this day and age.
Mostly, statues erected for political leaders are either symbols of their virtues or mementos of their power and influence. But Trump's statues are not even close to highlighting his accomplishments as a ruthless and powerful real estate business person.
With coarse, detailed skin showing his veins and pinkish features, the naked statues of Donald Trump represent the Republican Presidential nominee, lacking a critical pair that is an important part of a man's body.
The man behind the statues goes by the name Ginger. He lives in Las Vegas and was approached by INDECLINE for his ability in creating large statues of monsters made out of silicone and clay, used mostly for horror-themed attractions and movie sets.
The statues were manufactured out of 300 pounds of silicone and clay. Each statue weighs around 80 pounds. Ginger spent at least 25 hours each week elaborating the statues since April, when he was confirmed to be working on the project.
"Trump is just yet another monster, so it was absolutely in my wheelhouse to be able to create these monstrosities," the artist stated.
He stated that Trump's mouth was his "biggest sculpting challenge" as of yet. He relied on internet research to find usable pictures of naked male bodies for reference, to which he stated that his browsing history is quite the attraction by itself, as he repeatedly searched for 'saggy old man butts.'
Apparently, Ginger was going to vote for Trump when he was just starting his campaign, as his proposals had great acceptance within the middle class, where Ginger claims that he resides.
But as the campaign progressed, Ginger saw how Trump was a reckless politician with no regard for other people. He claims that the turning point for him was when Trump mocked a physically challenged reporter and later tried to deny doing so.
Ginger believes that the statues would not last for long, as it is likely that either Trump supporters or opponents would want to take them down, or perhaps take a piece of it as a souvenir.
An attack on Trump's image
Trump is known to be sensitive towards his image. Back in February, Senator Marco Rubio made a comment regarding Trump's small hands, claiming that one cannot trust a person with small hands, to which Trump just went full head-on to the issue.
"Nobody has ever hit my hands, I've never heard of this before. Look at those hands, are they small hands? And he referred to my hands, 'if they're small something else must be small.' I guarantee you there's no problem, I guarantee it," Trump responded.
A related issue is the enigma of Donald Trump's hair, which was the object of a New York Times investigation that claims his hairdo costs around $60,000, which was also described as a "cotton candy hairspray labyrinth."
Gawker Media, the agency behind the investigation, was threatened by lawyers claiming that the story was a work of defamation whose intention was to cause emotional distress. The story was repelled with the threat of legal actions.
Many would assure that the best way to get rid of an authoritative figure is to make fun of them. Those who can't take a joke are the ones that are way too concerned with their image and take themselves too seriously, which is often an indicator of a feeling of superiority or pride.
People also suggest that, if the same statues were made but representing Hillary Clinton instead, the public response would have been very different.
The determining factor is that, unlike Clinton, Trump is a bully, who does not think twice when it comes to depreciating news reporters, politicians and anyone that he deems as a threat to his endeavors.
Source: Washington Post