Ellen DeGeneres called out sick and asked Miley Cyrus to host the show, which aired Thursday, and the The Voice coach agreed. Cyrus came to the studio dressed like Ellen and interviewed Sarah Jessica Parker and  Frozen's Idina Menzel.
Miley talked with the Sex On The City actress about her new series "Divorce," compared shoes with her and played the five-second rule game. While playing the game, Cyrus said she had hidden pot, alcohol and cats on her house.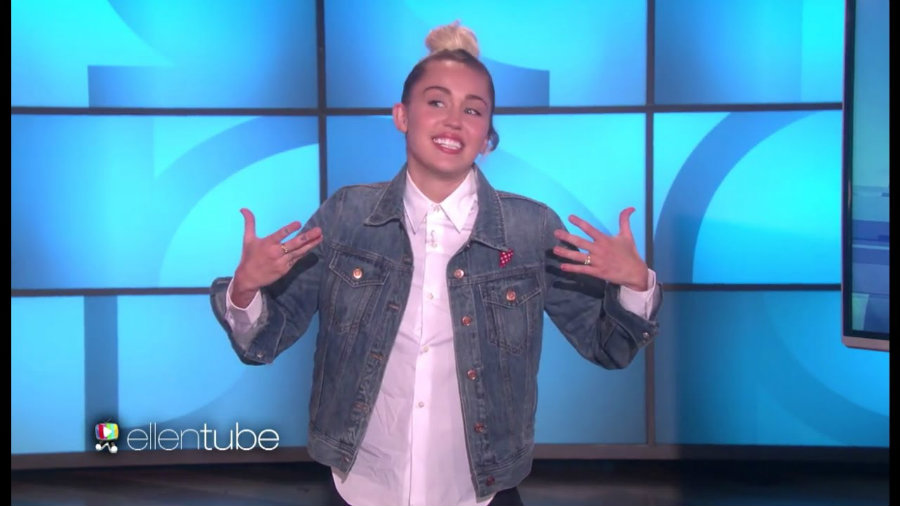 The young singer and actress appeared in front of the audience explaining Ellen was sick and came to host the show to help her. Miley joked about never having hosted a show with clothes on and saying DeGeneres is feeling better because she gave her some "Molly."
Cyrus confessed Ellen was the inspiration for her outfit and that she even kissed a girl before getting to the studio.  She was wearing a denim jacket over a white blouse, black jeans, white sneakers, and a bun to locked her hair.
Miley danced with the audience, and when Sarah Jessica Parker (SJP) got to the show, the girls compared their shoes. Parker was wearing a pair of shoes of her collection, the SJP Rampling pumps in silver, and the 23-year-old was wearing ED Ellen DeGeneres Chapala sneakers.
"I'm really stoked to be feeling Ellen's shoes right now, but look at yours versus mine. Not offense, Ellen," said Miley when comparing shoes with her first guest.
But the shoe designer said that even without sparkles, Cyrus could compete.
Before starting to play the five-second rule game, Parker was promoting her new fragrance "Stash" describing it as "illegal," explaining that it is so good that it should be a crime. Cyrus tried the perfume and then Sarah Jessica Parker shamelessly sprayed her new fragrance all over herself. All the audience was given the SJP perfume.
The five-second rule game is about answering a question in only five seconds, and Parker got more points than Cyrus. Still, because she was hosting, Cyrus won, said the enthusiastic host.
Among the questions, Miley was asked to name three things she has hidden around her house and to say three things she says when she gets mad.  In five seconds the host-for-the-day said regarding hidden items in her place: pot, alcohol, and cats, and added that she had hidden more cats than alcohol. To answer the second question she mentioned two phrases: "**** you"  and "Don't talk to me" because she ran out of time.
Then, was SJP turn and her questions were to name three famous blondes and to say three things that her husband, Matthew Broderick, does. Parker's three famous blondes were Marilyn Monroe, half Miley Cyrus, and Virginia Madsen. And what Broderick does not do is snoring, and added he smiles and that he reaches out to her.
Another question for Cyrus was to name three things she cannot resist.
"My cell phone, cute boys and girls and…candy!" Cyrus quickly replied.
Idina Menzel brought a sensitive topic for Miley
The host-for-the-day interviewed Idina Menzel, who recently became engaged to Aaron Lohr, and talked about Frozen. The two actresses were talking about whether Elsa will get a girlfriend in the sequel and Menzel joked saying she was a servant to Disney.
"Trust me, that makes two of us. Welcome! No one knows that better than me, baby!" former Hannah Montana responded.
Source: The Daily  Mail