Jenny Rissveds, from Sweden, won Saturday gold medal in the Olympic women's mountain bike, finishing 37 seconds ahead of Poland Maja Wloszczowska and a minute and a half in front of the Canadian, Catherine Pendrel, who won silver and bronze, respectively.
Jenny Rissveds amazed the crowd as she won golden in the Women's cross country cycling competition in Rio, just a week away needing several stitches in her knee and elbow after a training fall.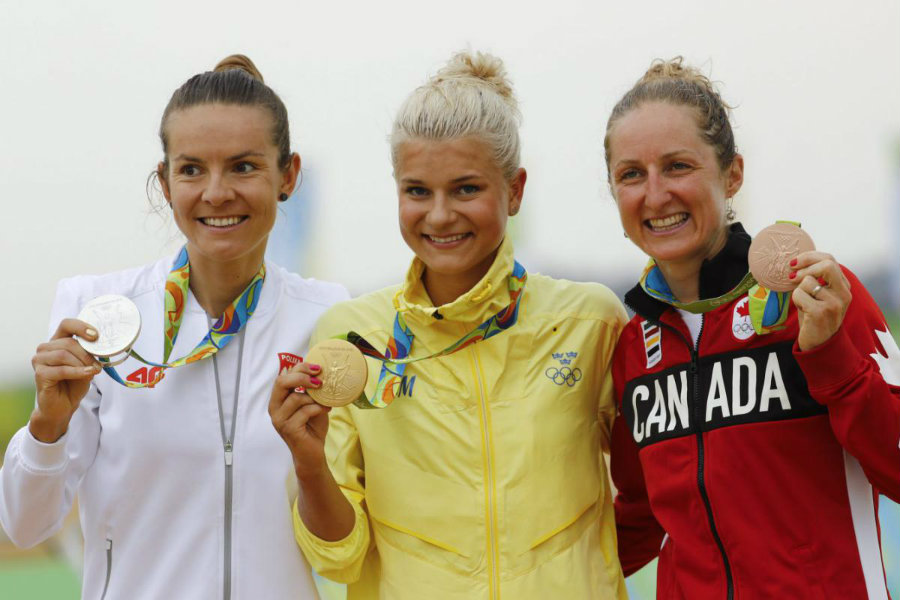 "I just came here a week ago. I crashed in training, and ended up with six stitches in my knee and four in my elbow and I thought this is not going to work at all," said the new world champion.
A long-awaited medal for Sweden
Jenny Rissveds, a 22-year-old cyclist, won the first gold medal for Sweden in any Olympic cycling event since Bernt Johansson's gold medal in the men's road race in 1976 in Montreal. The mountain-bike rider at first didn't believe she could achieve gold after her bike accident, but she gained confidence as the competitions advanced, she had a great final loop breakaway. She said that she was at first scared but after a few loops she felt great.
The Swedish was in a battle with the Pole Maja Wloszczowska in the final circuit of the rolling 4.8km course, but Rissveds has a powerful and successful attack, pulling away quickly and finishing 37 seconds before the rider from Poland. Rissveds was the youngest competitor on the course, which included the participation of seven former world champions. Her gold medal became the second one for Sweden in the Rio Olympic Games after swimmer Sarah Sjostrom won in the 100 meters butterfly competition.
A difficult achievement
The 22-year old couldn't believe she won. She admitted she was, at the beginning of the race, just having some fun but she did a great job.
"This is for sure the biggest achievement in my career," said Rissveds, "I thought if I stay cool, in the worst case, I can finish second, but I thought, I have to go for the gold! And I got the gold medal", she said.
On the other hand, Wloszczowska obtained silver just as she did in Beijing 8 years ago. She couldn't participate in the London Games, back in 2012, since she had a leg fracture just three weeks before the games started. Therefore, she had to focus in Rio instead. She said that before the Saturday race she was counting 13 girls she believed could win, so being her who arrived second made her happy. She admitted she always thought that the victory would be Jenny's.
The race was as well challenging for the bronze medalist Pendrel of Canada, who arrived in the third position even though she experienced technical difficulties. She had a crash on the start loop. She also found a lot of traffic along the competition and later she had a mechanical on lap one. She felt somehow that she wouldn't be able to make it given those circumstances.
"I just kept fighting through, and it paid off in the end," Pendrel said.
Source: Olympic Games 2016