Germany will pass a law next week obliging kindergarteners to inform the authorities if parents don't provide proof that their kids are vaccinated. The announcement was made on Friday by the German health ministry.
The country will fine parents who fail to ensure that certain vaccinations are carried out at the appropriate time, and they could pay up to EUR 2,500 ($2800) if they don't vaccinate their children. \
German government could fine parents who don't vaccinate their children
Vaccination rules are being tightened in Europe, where in recent years there has been a decline in immunization, which has caused a spike in diseases such as chicken pox, measles, and mumps, according to the European Centre for Disease Prevention and Control (ECDC).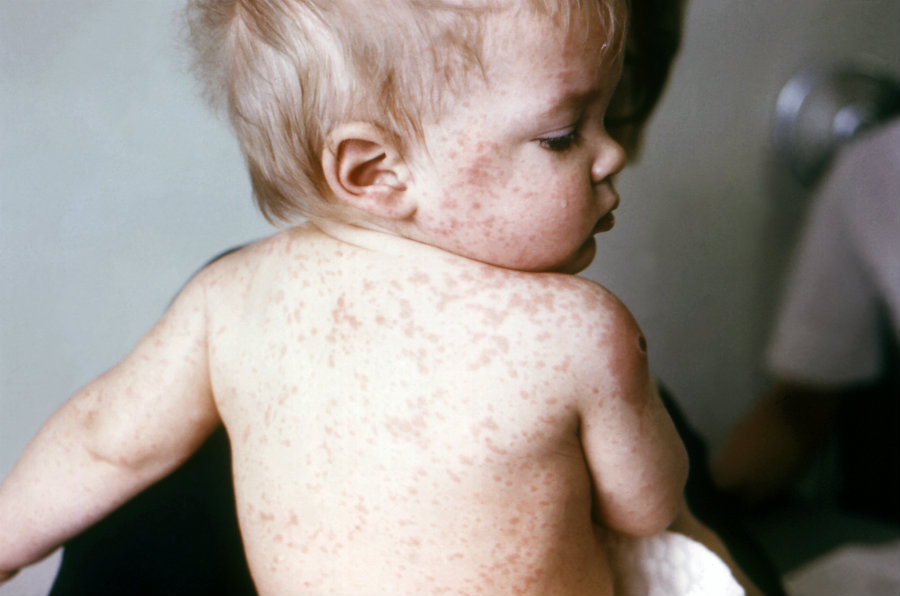 "Nobody can be indifferent to the fact that people are still dying of measles," told Hermann Groehe, German health minister, to the Bild newspaper. "That's why we are tightening up regulations on vaccination."
This week, a 37-year-old mother of three died of measles in the city of Essen, which was added to the reasons why the government is obliging kindergarteners to report parents who cannot prove they have had a medical consultation regarding vaccination for their children.
Under the upcoming law, the children of parents who fail to seek vaccination advice could be expelled from their kindergartens or daycare centers. The upper house of the German parliament, known as the Bundesrat, said forcing daycare centers to report some parents to the health authorities might breach data protection laws. Parliament will vote on the measure next Thursday.
Germany has reported 410 measles cases this year, more than the 325 cases that were identified during the entire 2016, according to the Robert Koch Institute. The institute noted that besides children, all adults born since 1970 should get vaccinated against measles if they have not had the measles shot or had it only once.
Last week, a court in Germany ruled that a father could insist on having his children vaccinated, over the objections of the mother. The case concerned a separated couple, and the kid was living with the mother who refused to vaccinate the child.
Vaccination rates have dropped after discredited theory linking autism with MMR vaccine emerged
Vaccines have helped to protect the world's population ever since they were discovered, and they have dramatically shrunk the numbers of people affected by potentially deadly diseases like measles, influenza, whooping cough and polio. The World Health Organization said that even more people, around 1.5 million, could be averted across the world if more persons were immunized. WHO has noted that measles has become of great concern.
"It's among the most contagious diseases of humankind," said Dr. Sean O'Leary, a spokesperson for the American Academy of Pediatrics and associate professor at the University of Colorado School of Medicine and Children's Hospital Colorado, according to CBS News. "If you're across a gymnasium from someone with measles and they cough, you can get it."
In Italy, health officials have reported nearly three times more measles cases so far this year, when compared to 2016. Last week, the Italian government ruled that parents must vaccinate their kids against 12 common diseases before enrolling them at state-run schools. The diseases list includes measles, polio, whooping cough and hepatitis B.
Italian health officials have attacked what they refer as "anti-scientific" theories that have led to vaccination rates falling well below levels deemed safe to prevent outbreaks. Such theories include a long discredited connection between autism and the MMR (measles, mumps, and rubella) vaccine.
U.S. states have tightened vaccination requirements
In the United States, reality TV star and actress Jenny McCarthy became a supporter of the MMR controversy, and she said in numerous occasions that the vaccine had caused her son to have autism.
Although there isn't any scientific evidence linking autism with the MMR vaccine, many people around the world believe the theory, which has translated into dropping rates of vaccination and subsequently, to more people infected with these diseases.
Some U.S. states have implemented stricter vaccine requirements for schoolchildren after some outbreaks spread among people who hadn't been vaccinated.
"Before, you could show up at a school and sign a form to opt out of vaccines, but now parents have to have a conversation with a family doctor or pediatrician," said Dr. Wendy Sue Swanson, a pediatrician in the Seattle area, according to CBS News. "We've seen vaccination rates going up after that. States who don't require mandated conversations with health professionals for vaccine have lower rates."
According to the American Academy of Pediatrics, nine out of ten families in the United States follow their vaccine schedule.
Source: CBS