New York – The Beatles first recording contract, which placed the beloved quartet on the path that would change music history forever, is expected to sell for $150,000 as Heritage Auctions presents The Uwe Blaschke Beatles Collection in September 19 in New York. The resulting song from the recording session was a rock and roll version of "My Bonnie Lies Over The Ocean", a single that got manager Brian Epstein's attention. His efforts with the band secured their worldwide success.
"This is perhaps the most historically important Beatles document to ever appear at auction. Without this contract, which directly led to their involvement with Brian Epstein, the Beatles may have never been able achieve their later success as a recording group. And at the time it was a momentous career milestone — they'd finally secured an actual recording deal, something they had only dreamed of before 'My Bonnie'," said Dean Harmeyer, Consignment Director at Heritage Auctions.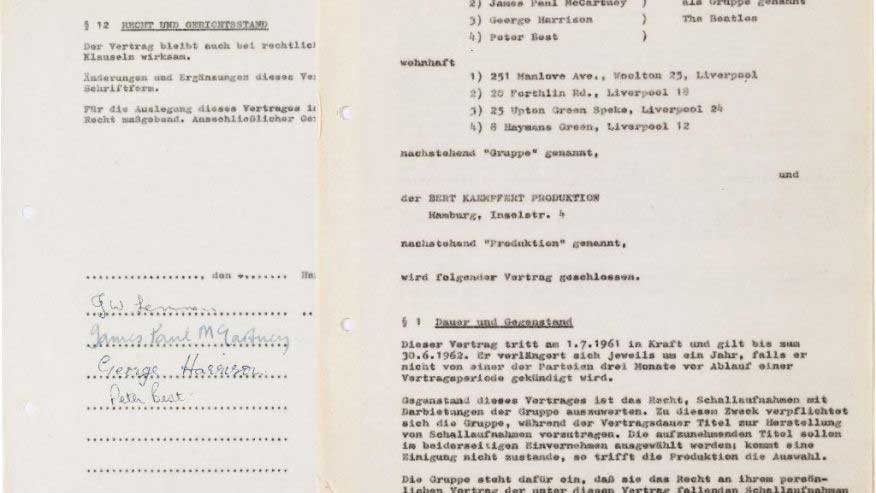 Blaschke, a recognized Beatle expert and historian, put together one of the best collections of the band in the world. His collection is especially notable because it includes many items from the time the Beatles spent in Hamburg from 1960 to 1962.
During the band's second visit to Hamburg, Germany in 1961, record producer Bert Kaempfert saw them performing at the Top Ten Club on Reeperbahn street. Amazed with what he saw, he recruited The Beatles and Tony Sheridan, another Top Ten Club performer, to spend an entire day recording rock and roll versions of traditional german songs. "My Bonnie" was a song taught to children in German schools, and the producer thought that a modern version of it could be an instant hit. For their work, John Lennon, Paul McCartney, George Harrison, Pete Best (Beatles original drummer) were paid about $20 each.
"My Bonnie" was credited to "Tony Sheridan & The Beat Brothers", as producers thought that the name Beatles wasn't going to work on the German market. The single had a modest impact on Germany, but back in Liverpool, Beatles fans began asking for it in local record stores, including the one owned and managed by Brian Epstein. When he knew that the requests were for a Liverpool group, Epstein went to see the band perform. He later became their manager, and in just a few months he had secured a music test with EMI producer George Martin, resulting in the recording of "Love Me Do," the group's first hit.
Regarding to the collection being auctioned, Harmeyer added, "The Blaschke collection represents one of the finest Beatles collections to ever come to auction, and is the most extensive Beatles collection ever offered at Heritage. It is truly an international collection, with items from around the world. And with its roots in Germany, the Blaschke collection shines a particular light on the importance of the time the early Beatles spent in Hamburg. For die-hard Beatle fans, Hamburg is an incredibly important chapter in their early, formative period. Had the Beatles not gone to Hamburg, the later story may have been very different — or perhaps not known at all"
The collection's highlights include: a vintage snapshot of 17-year-old George Harrison modeling his first leather jacket, taken in 1960 in Hamburg shortly before his deportation from Germany for being underage (estimated value: $3,000+); a postcard sent by Ringo Starr to his grandmother from Hamburg, signed "Lots of Love, Richy xxxxx" (estimated value: $4,000+); an autographed copy of the group's first EMI single, "Love Me Do" from 1962 (estimated value: $10,000); and a 1961 letter from Epstein to the Top Ten Club in Hamburg concerning a Beatles booking (estimated value: $1,500+).
The collection also includes many items of Beatles' merchandise produced in the 60s: a cotton print Beatles dress from Holland (estimated value: $1,500+); a set of Paul and Ringo bubble-bath bottles by Colgate (estimated value: $1,000+); and a metal talcum powder bottle from the UK (estimated value: $500+).
Source: Heritage Auctions