The new Nvidia Shield appears to have redeemed its past versions by fixing several flaws and adding power plus affordability to an already decent console, allowing it to compete against Amazon's Kindle Fire TV and Roku.
Featuring Android TV 5.0, Shield TV will be the perfect companion for streaming TV shows and playing games in 4K HD. What's more is that the device remains basically the same in terms of hardware compared to its 2015 version, although the controller has been refurbished, the remote now comes with the console, and the price of the whole system has dropped to $199.
A contender for game consoles
The new Shield TV will allow plugging USB flash drives to act as storage for downloaded media, which allows users to refrain from buying the more expensive $299 version that features 500GB, while the standard version has a measly 16GB storage. The system will also bring a native Amazon Video app, ideal for Prime members so they can watch all of their shows in the highest resolution possible.
The Shield TV has access to Nvidia games available on the App Store, Google Play Movies, YouTube, Netflix, Hulu, and many more apps.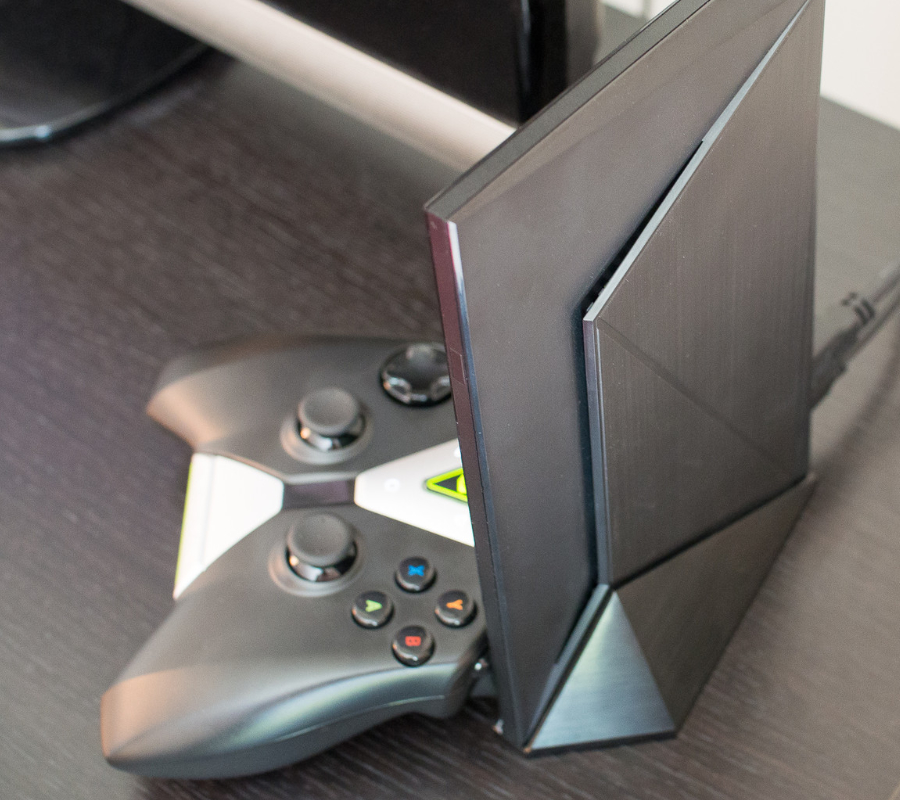 Although many might expect that the Nvidia Shield TV could replace some of the mainstream consoles, it still needs to bring out something that will drive players to deter from purchasing one of the newer consoles, such as the Nintendo Switch, which is set to launch in March.
That something may be Nvidia's GameStream technology, which allows streaming games from a PC to an Nvidia Shield using only a Wi-Fi connection. One can also connect a mouse and a keyboard to the Nvidia Shield (which also supports Bluetooth) to play PC-only games such as League of Legends, World of Warcraft, and many more of the kind.
Over 200 games have been optimized for GameStream, including big-name titles such as Asssasin's Creed, Gears of War, Amnesia, Bioshock, Borderlands, Batman Arkham series, Call of Duty, and many more.
Another useful function may be GeForce NOW, a $7.99 subscription service that allows players to stream games directly without downloading them. Games available on GeForce NOW expire according to the user's membership, although progress is maintained. Users can opt for a free trial of GeForce NOW by launching a GeForce NOW game from the Shield Hub or the Nvidia Games app.
"I have a fast internet connection and strong Wi-Fi network, which let me play first-person shooters like Homefront: The Revolution and racing games like Sonic & All-Stars Racing Transformed in 1080p resolution and 60 frames per second on my living room TV. Load times were minimal there were only a few minor hiccups in frame rates, none of which interrupted game play," wrote Dan Seifert for The Verge.
Users have named the Shield TV "the best streaming service you can get" for 4K HDR video, seeing that Nvidia is one of the leading manufacturers of graphic processor units.
New gadgets and new ways for being entertained
Nvidia teamed up with Google to bring Google Assistant to homes that will make room for Shield TV. So far, Google Assistant has not been fully integrated except for the Google Pixel, the only Android phone to feature the personal assistant. Google Assistant will be available in Android Wear and TV devices as a method for competing with Apple's Siri, and Amazon's Alexa.
It appears that physical media entertainment will eventually become obsolete, seeing that with each passing day people are opting to stop watching TV and restrict themselves to streaming videos and watching the news on dedicated apps, rather than shifting through channels to see what's on.
TV shows now have their own subscription based apps, including HBO and many other large-name network companies. It is a matter of time until the majority of entertainment media is transmitted through the Internet, leading cable and satellite TV companies to a crossroads where they must innovate and evolve or stay behind and fade.
Set-top boxes appear to be the latest innovation for home entertainment, while on the other side of the spectrum are classic console companies such as Nintendo, Xbox, and PlayStation. Before we realize all of these consoles will differ only by the brand and the games they feature, where dedicated game consoles will have to step up their game so they can pose a threat to competition in every branch of the market.
Source: Nvidia