The police in South Carolina have arrested a 25-year-old man who robbed a convenience store using a Nintendo toy gun. David Joseph Dalesandro used a fake 1980s Nintendo gun repainted black to rob the store before being caught with his $300 loot down the street. He wore a mask, wig, and a hoodie sweatshirt to pull off his stunt at about 5:45 pm on Tuesday.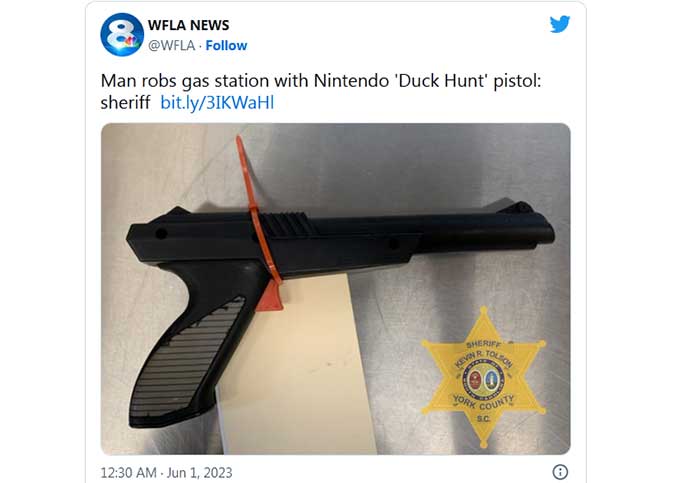 Dalesandro threatened the Sharon Kwik Stop store clerk with the Nintendo toy gun before the man emptied the cash register for him. He then went to a Dollar General a few houses away where the police found him with the toy gun in his pocket. The toy gun is originally colored bright orange, but he repainted it black to resemble a real gun.
The York County Sheriff's Department posted the photo of the fake gun on its Twitter page after people requested to see it. Dalesandro is presently in police custody and may face charges related to using a real firearm for robbery. Given the rise in the use of fake guns for crimes across the United States, the Baltimore City Chief Deputy State's Attorney Michael Schatzow in 2018 said toy guns will attract serious punishment if used for robbery.
"Carrying a fake gun and using it as if it were a real gun is a recipe for incarceration," Schatzow stated. "We take this very seriously because, from the victim's perspective, it makes absolutely no difference."
In 1990, Congress found that 15% of robberies across the United States were pulled off with fake, toy guns. The Congress found in a study that between January 1985 and September 1989, a total of 5,654 robberies were reported by 458 police departments. Within the same period, a total of 8,128 assaults were committed using toy guns that victims thought were real.
In the case of Dalesandro, the fake gun used was marketed by Nintendo Entertainment System in its consoles in 1984. It was used for the Duck Hunt video game and came with an optical sensor that enabled players to shoot animated video ducks. The toy gun was used to play Duck Hunt, Hogan's Alley, and Gunshoe video games.
"That yearning for power, control, and in many cases, protection, lends itself to what we're seeing now, replica use and/or actual gun use," said Natasha Pratt Harris, coordinator of the criminal justice program at Morgan State University.