North Korean leader, Kim Jong-Un used a softer tone with South Korea during his New Year's Day address on Monday. Kim Jong-un offered to send a delegation to the Winter Olympics in Pyeongchang next month.
Kim Jong-Un sent a conciliatory message Monday, stating his wishes for a "peaceful resolution with our southern border," showing that he is willing to improve the bilateral relations with South Korea. However, he also warned the United States not to test him, because his country has completed its nuclear ambitions and now he has the nuclear buttons on his desk.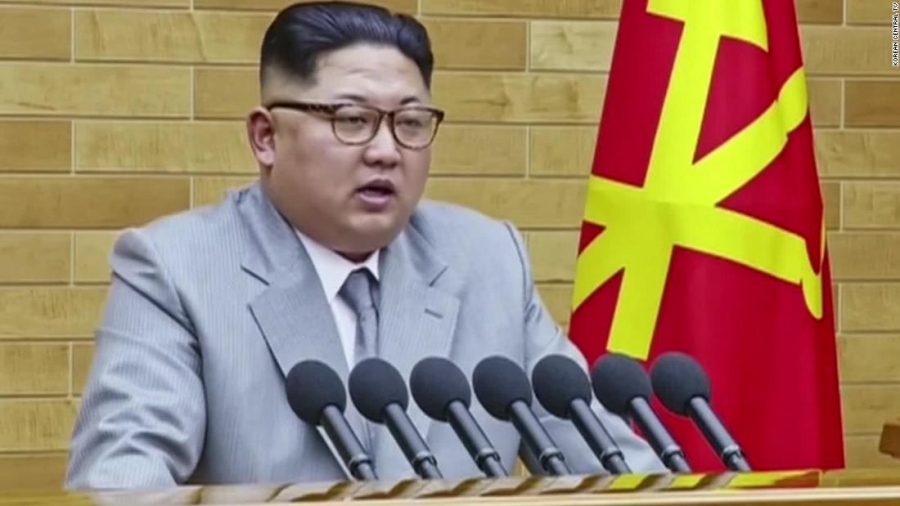 "The entire United States is within range of our nuclear weapons, a nuclear button is always on my desk. This is a reality, not a threat. This year, we should focus on mass-producing nuclear warheads and ballistic missiles for operational deployment. These weapons will be used only if our society is threatened," Kim said on Monday. "No matter how much America wants to attack us with their military might and nuclear power, they know that now we possess such great nuclear power and therefore they will not dare," he continued.
2017 was a successful year for North Korea
It is well known that North Korea has intended to become a nuclear state and it advanced to achieve its objective during 2017 with several missile launches. A few weeks ago, North Korea self-proclaimed a nuclear nation after the successful launch of its most significant missile to date, in September.
Now, it has more power to continue its threats to the United States and so did Kim Jong-Un on his New Year's Day speech this Monday. North Korean leader threatened the United States with using the nuclear button -located on the desk of his office – if they were any provocation.
Kim said that its nuclear missiles could reach the entire U.S mainland. However, Kim Jong-Un remarked that the United States shouldn't interpret this comments as a threat but as a reality. He said that now the United States cannot threaten them with his power because they have nuclear power too. He said that becoming a nuclear program was the greatest achievement of North Korea in 2017 and certainly a "historic accomplishment."
A surprising New Year's day speech
On the other hand, it has softened its rhetoric towards his neighbor country, South Korea, and expressed its willingness to begin talks – as soon as possible – and to send a delegation to the Winter Olympics. He expressed his desires to solve the controversies on the southern border and to reduce tension on the Korean peninsula.
His message to South Korea surprised analysts and politics worldwide since the relation between DPRK and the Republic of Korea has been bad since the creation of both nations. They deteriorated even more particularly since the arrival of Kim Jong-Un to the power, and they reached its lower point with the development of the North Korean nuclear and weapon program.
"North and South must work together to alleviate the tensions and work together as a people of the same heritage to find peace and stability," Kim Jong Un said, according to a CNN translation of his speech.
North Korea also wished success to South Korea in hosting the 2018 Winter Olympics, referring to the event as a "good chance" for Koreans to show their greatness.
South Korea welcomed Kim Jong-un's address
South Korea decided to respond Mr. Kim's highlights on New York's day welcoming his desires to improve the bilateral relations and to send a delegation to the Olympics.
"The (President's office) has been expressing its intent to talk with North Korea anytime, anywhere and regardless of formality if this is for the normalization of the inter-Korean relations and for the peace of the Korean Peninsula," said Park Soo-Hyun, the spokesman for South Korean President Moon Jae-in, adding that the President's office also "hopes South and North Korea will peacefully resolve North Korea's nuclear issue while closely cooperating with the international community."
Park also said that if the PyeongChang is carried out successfully and peacefully, it will contribute to the peace and harmony of the Korean Peninsula, Northeast Asia, as well as to the world
Mr. Kim's comments astonished the international arena in a positive way when it comes to his desires to improve the relations with his neighboring country. North Korea's intentions must be seen carefully since they haven't actually shown or proved its good intentions.
They are certainly not willing to quit its nuclear program, and its reiterated threats to the United States makes the whole situation even more confusion. According to Mike Mullen, a former chairman of the Joint Chiefs of Staff, the United States is "closer to a nuclear war with North Korea" than ever. Last week, the United Nations Security Council imposed new sanctions on North Korea due to its missile test on November 29th.
Source: CNN