The Smoky Mountains, located in East Tennessee, are one of the nation's top travel destinations. This area of the country is beautiful and family-friendly. It can also be a relatively affordable place to travel.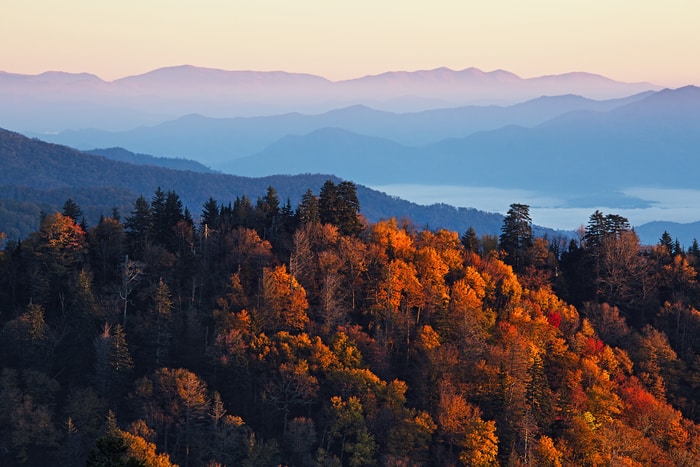 There's a lot to do, from visiting Great Smoky Mountains National Park to enjoying a dinner show like popular Hatfield & McCoy's show.
With that being said, lodging is an important consideration. There are hotels and resorts, rental cabins, and also camping options available in the area.
The following are some things to know and tips to help you decide where to stay in the Smokies.
The Area
The two primary towns you might stay in or near if you're visiting the Smoky Mountains are Pigeon Forge or Gatlinburg. There are also smaller nearby mountain towns like Townsend or Sevierville, but the most popular is Pigeon Forge and Gatlinburg.
The two are around six miles apart, but there are some key differences.
If you like shopping and a more modern, commercial feel, you might prefer Pigeon Forge. Gatlinburg has more of a small-town feel, and most of the shops are more centered around arts and crafts and local culture.
Overall Pigeon Forge has more of the attractions the area is known for like the dinner theaters, attractions like the Titanic Museum and Dollywood, as well as the relatively new Island complex.
If you want not only the small-town feel but more of the high-end restaurants in the area, you might prefer Gatlinburg. Considering how close the two are to one another, you can easily get back and forth, although sometimes the traffic can make it feel like more than six miles.
Renting a Cabin
There are some hotels in Gatlinburg, but the more popular lodging option is often a cabin. There are cabins for nearly all budgets ranging from very simple and rustic to luxurious. Many cabins are around 15 to 20 minutes from downtown Gatlinburg, which gives you the views and the true mountain experience. There is some closer, however.
If you want a view, you will have to sacrifice a bit of convenience.
While a cabin gives you that quintessential mountain experience, you may have to bring some of your necessities. Check with the rental company about things like towels, soap, toilet paper, and paper towels.
The rental company or cabin owner may provide some of these items, but not all of them.
With a cabin, you have the opportunity to prepare your own meals, which may be a plus for you, particularly if you want to save money. With that being said, you will need to grocery shop, and all that comes with that so give yourself time.
There is one larger grocery store a few miles from downtown Gatlinburg, and then there are a couple of specialty stores closer to town.
Resorts
There are resorts in the area, and many have a wilderness or mountain theme, similar to a lodge. For example, one favorite among area visitors is The Lodge at Buckberry Creek. This lodge features suites with soaking tubs, fireplaces, and balconies. It's also pretty close to the popular Great Smoky Arts & Crafts Community Trail. The onsite restaurant is also one of the few true fine dining options in the area.
Another similar option is called Bear Skin Lodge on the River. This one is within walking distance to downtown Gatlinburg and it features an outdoor pool, lazy river, and rooms with fireplaces as well.
The DreamMore is Dolly Parton's resort. It's a luxurious and large resort with an indoor and outdoor pool and onsite shopping and dining. It's closer to Dollywood and Dolly Splash Country than the other lodging options on this list. It also books quickly, so thinks ahead if you're considering this one.
If you want to be pampered, the Riverstone Resort & Spa is a good option, located in Pigeon Forge a bit off the beaten path. This resort features both condos and cabins, golf course views, and two pools as well as lazy river all onsite.
Hotels
If you want something moderately priced and with plenty of conveniences, there are also hotels in the area. There are options like the Holiday Inn Club Vacations hotel, as well as the Courtyard by Marriott Gatlinburg Downtown. The Park Visa is a DoubleTree by Hilton hotel in Gatlinburg, and there are options in Pigeon Forge like the Inn on the River Pigeon Forge.