President Barack Obama addressed the need for black voters to uphold his legacy by supporting Democratic candidate Hillary Clinton.
Obama spoke at the Congressional Black Caucus Foundation, honoring Clinton as the first woman to be nominated for the presidential race by a major party. The President stated that, although he is not participating in the race, the same issues that led black communities to support his candidacy are at stake.
"I will consider it a personal insult, an insult to my legacy if this community lets down its guard and fails to activate itself in this election. You want to give me a good send-off, go vote," stated Barack Obama.
A presidential candidacy based on racism and division
The president addressed that Trump has finally admitted Obama was born in the United States. The birther conspiracy, greatly promoted by Trump for several years, was just left to dry by the Republican candidate.
The conspiracy has been refuted repeatedly, but Trump even reached out to lie claiming that Clinton was one of the first to doubt of the President's place of birth.
Trump consistently claimed that Obama was born in Kenya.  He then recognized that Obama is an American by birth and did not take the time to apologize or provide explanations about his remarks.
The President turned serious for his speech when he started talking about voting, saying that the way of giving him "a good send-off" was for the attendants of the Congressional Black Caucus Foundation to vote for Clinton and to stop Donald Trump from being elected to office.
He remembered Trump saying that "there's never been a worse time in America to be a black person," and mocked his ignorance by remembering slavery and inviting him to the National Museum of African American History and Culture, set to open this week.
Obama noted that Republicans have worked hard for forbidding minorities of voting, by closing polling places and imposing voter ID requirements, which are strong-arm democratic tactics familiar to authoritative democratic leaders such as Turkey's Erdogan and Venezuela's Maduro.
Hillary Clinton spoke after Obama, calling for ideas and not insults as there is a necessity of helping Americans coming from "communities that have been left out and left behind," without being dazed by paranoia and rhetoric following Trump's divisive stance on how the United States should be run.
The support of black voters allowed Barack Obama to rally 13 percent of the electorate on both of his victories.
Is Donald Trump racist?
Donald Trump has been widely criticized for failing to prove himself to be racially inclusive, although he claims that he's the "least racist person you've ever met."
When KKK's high hierarchy revealed that they were openly campaigning for Donald Trump to be elected, the Republican candidate failed to disavow the support.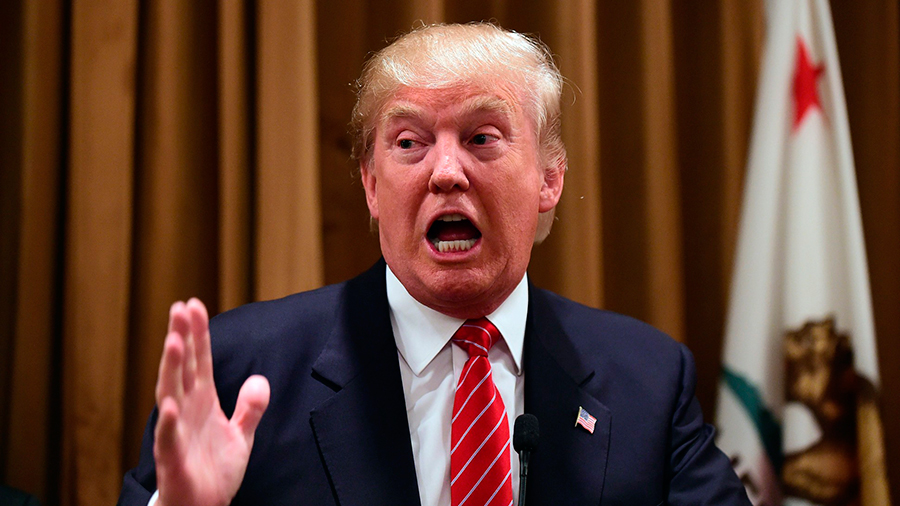 Most of the race scandals involving Trump are about Mexicans and Mexican ascendancy. He has called for a massive deportation of Mexicans. He has also proposed the creation of a dedicated intelligence system to have every Muslim under constant surveillance.
Besides his infamous decision to build a wall between the U.S. and Mexico (which Mexican president Peña Nieto refused to pay) Trump steadily cruises the waters of racial division, something that the United States has fought all over its history, to the point of politicians losing their lives as they fought for racial inclusion and equality of rights.
Now, the Republican candidate aims to take steps back in a process that has cost lives and decades of struggle in history. In fact, Trump's company has been sued twice by the Justice Department for not renting to African-Americans.
The first lawsuit occurred in 1973 on the base of racial discrimination as Trump's company appeared to be preemptively refusing to rent apartments to black people in Queens, Brooklyn and Staten Island.
Trump's company issued false notices about the availability of the apartments to black clients, resulting in a lawsuit of $100 million. The lawsuit was settled and they compromised to send availability reports to minority groups. Three years later, the same lawsuit ensued for the same exact reasons.
In the eighties, employees assured that whenever Donald and Ivana Trump entered the casino blacks were taken to another room. Trump's casinos and hotels are also known for racist acts, as big spenders could get black card dealers removed if they so wished. A lawsuit was placed on behalf of this issue for $200,000 in 1992.
"Black guys counting my money! I hate it. The only kind of people I want counting my money are short guys that wear yarmulkes every day," stated Donald Trump according to 'Trumped!', a book by John R. O'Donnell, former head of the Trump Plaza Hotel and Casino.
Source: Bloomberg